Discover more from Books, Marketing, & More
Taking your writing and publishing journey to the next level with book marketing advice, interviews, writing tips, and industry news. Also tea.
July: Book Orders, Diversity in Publishing, Industry News
Book orders & bookstores; new workshops; articles & surveys about diversity in publishing; #PublishingPaidMe; and summertime refreshments

Greetings readers & writers,
Our local independent bookstore hosted a book fair in support of our school (because bookstores are the best). I waited a little too long and the store was already out of several titles by the time I finally placed our order online. This meant that, while some books were available for immediate gratification, others we had to wait for (it was worth the wait).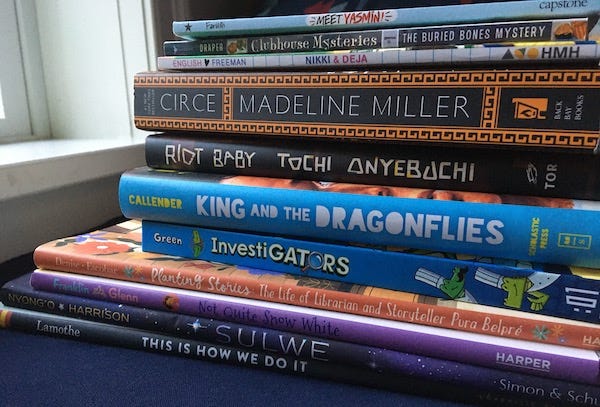 Bookstores are struggling right now, amid the restrictions of COVID-19 and loss of business, balanced with aiding their communities (and the nation) — stores across the country have opened their doors and their funds to the Black Lives Matter protests.

At the same time, there has been a surge of support. As our country grapples with issues of racism, intolerance, and fear, many people are turning to books. Titles on anti-racism and by Black authors are surging on the best-seller lists. There has been an outpouring of support for indies, especially, Black-owned bookstores, with orders increasing by more than a hundred fold, but this demand, while welcome, has also been overwhelming. Boston's own Frugal Bookstore, has received undeserved blow-back for delays in the wake of a titanic increase in orders for the same top titles.
When a book is ordered from an independent bookstore, a bookseller confirms that either they have it "on hand" (in the store) or that they need to "special order" it, typically from a wholesaler, sometimes from the publisher directly. A special order generally takes 1 - 5 days, depending on where it's shipping from.
But in this case, with a soaring demand for the same titles, publishers quickly ran out-of-stock and had to go back to reprint, in come cases on titles over ten years old. Reprints can take 2 - 5 weeks, on average, then factoring in order processing and shipping at each stage (publisher -> wholesaler -> bookstore -> customer) it can take weeks or even over a month to get some of these very popular titles in the hands of readers since the spike in demand.
So what to do while you wait? Be patient… and explore the joy of ebooks and audiobooks. You can can purchase audiobooks from libro.fm which supports independent bookstores; you can check out your local library's curated lists of titles by Black authors. Overdrive, which hosts ebooks and audio books for libraries across the country, is sponsoring select social justice ebooks and audiobooks with no waitlist and no cost for library patrons. And check out the resources below that explore discrimination in our own industry.

What books have you ordered from an indie or your local library lately?
---
Upcoming (Virtual!) Workshops:
Events are remote and require registration unless otherwise noted!
Need some one-on-one marketing a/o manuscript attention? I'm still doing consults!
---

Writing/Marketing Resources
"'A Conflicted Cultural Force': What It's Like to Be Black in Publishing" is a must-read series of interviews in The New York Times examining the role of race in publishing, from bookselling to marketing to editorial.
Literary Cleveland's Inkubator conference is going virtual this month, with three weeks of free panels and sessions on everything from "Intro to Food Writing" to "Decolonizing Craft." It's scheduled during lunch/happy hour so as not to conflict with day jobs. (Free) registration required for individual sessions.
At the end of June, KidLit Pride at Home went live — an exciting virtual conference of LGBTQ+ authors writing for kids and teens. Perfect for kids, parents, and librarians, you can view their panels for free on YouTube.
In response to #PublishingPaidMe (see below), writer and publishing guru Jane Friedman talks pay and contracts in her recent blog post "Questions to Ask Your Publisher Before You Sign a Contract". She breaks down the responsibilities of publishers and how to push for specifics in your marketing plan (I can help too!)
Expand your reading list and your marketing options by following and supporting a diverse range of reviewers, authors, and publishers. To start you off, check out Bookish's 20 Book Bloggers of Color, 20 Bookstagrammers of Color, and 20 Diverse Booktubers to follow in 2020.
Writing the Other has released the recording of their excellent webinar "Are You My Ally? A Webinar for Writers and Other Creators" which is essential viewing on allyship in creative work and community.
---

Industry News
Publishers are making the difficult calculus in a time of COVID-19 to postpone the release of some titles while holding steady with others, as reported by the New York Times.
Two new, telling surveys about diversity in books have released this month:
The Twitter hashtag #PublishingPaidMe, started by author L.L. McKinney, made a big splash last month when it encouraged authors to share their publishing advances, shedding light on the disparity between advances paid to white authors versus authors-of-color. Read this in-depth interview with McKinney and check out this public spreadsheet where over 2000 authors have shared their book advances.
The DOJ failed to thwart the publication of John Bolton's book about the Trump administration. The book has received mixed reviews from readers and bookstores. The Trump administration is now going after another tell-all book, this time by niece Mary Trump, scheduled to release at the end of July.
The science fiction and fantasy writing community was rocked in June by a series of abuse, harassment, and racism allegations against well-known authors and fan conventions in the genre. In his recent column, SFF writer Jason Sanford gives a concise and carefully-sourced round up of the tweets, articles, and blog posts addressing these allegations.
---
Tea + Salad Recipes: Garden Edition

Two things growing in my garden this summer that I'm especially thrilled about?Chocolate mint and kale. The former, because it makes a delicious, mildly sweet and fragrant herbal iced tea and the latter because I've basically been living off of this refreshing, zingy, and nourishing kale salad recipe this summer. I've honestly made it every other day.
Chocolate Mint Iced Tea
~1 cup fresh chocolate mint sprigs & leaves (aka a large fistful)
4 cups boiling water
Optional: sweetener of your choice
In a quart mason jar or thick class pitcher, pour hot water over the fresh mint (leaves and stems together are fine!). Muddle the leaves slightly with a large spoon to help release the oils. Add any desired sweetener while tea is hot. Allow to cool, then remove leaves, strain, and chill. Serve over ice.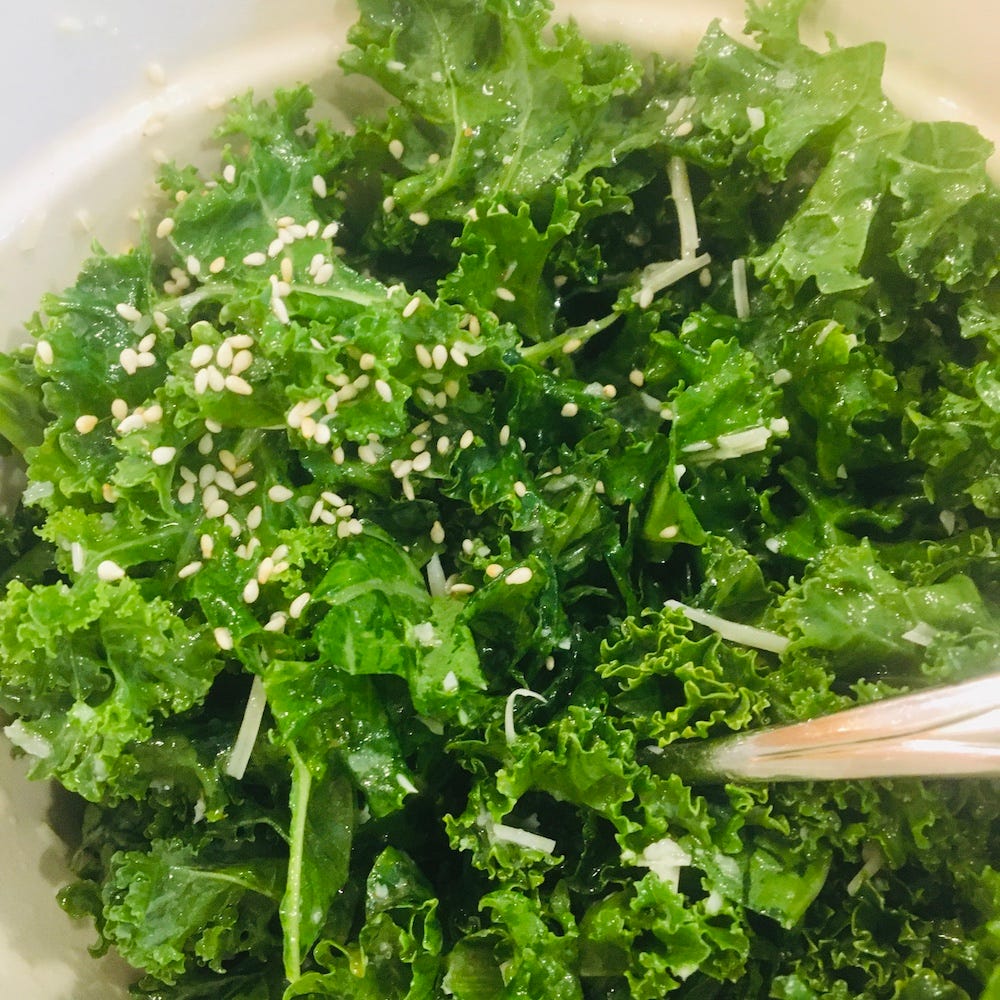 Lemon & Parmasean Kale Salad
inspired by 101 Cookbooks
1 bunch of curly kale, or kale of your choice, washed & dried
1 lemon, juiced
3-4 TBS extra virgin olive oil
1 1/2 tsp garlic paste
1/4 cup grated parmesan or sharp, nutty cheese of choice + more for serving
a pinch of red pepper flakes
salt and pepper
Something for crunch to garnish! (I've been using toasted sesame seeds, but any toasted nut, seed, or bread crumb will do)

Strip the stems from the kale. Discard stems and tear or slice the leaves into bite size pieces. Put into a large bowl and massage the kale for 1 -2 minutes (with a drizzle of EVOO if you'd like).

In a measuring cup, whisk together equal parts lemon juice and olive oil, along with garlic paste, cheese, and red pepper flakes. Add salt and pepper to taste.

Pour the dressing over the kale and toss until thoroughly coated. Add more salt and pepper to taste. Add extra cheese and your crunchy garnish to serve. Tastes even better on day two!
---
Keep reaching out and supporting each other and your communities. Let me know about any marketing campaigns, resources, or new books so I can signal boost!

All the best,
~Allison
Writer & Marketing Coach
Keep Writing, Keep Connecting! Twitter | Facebook | Newsletter | Website
---
Allison has happily made books her life's work. She spent four years marketing and publicizing academic titles at The MIT Press before she went to work for Wellesley Books as a children's bookseller and event coordinator. She is now living her dream: putting her B.A. in Creative Writing to good use as a novelist and as a writing/marketing coach for authors. She enjoys science fiction, cupcakes, and a hot cup of tea.